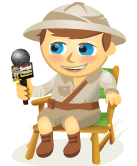 In this video I interview Jennifer Love, Senior Vice President of Communications at H&R Block. Jennifer shares how H&R Block adapts conversations across all channels to create customer experiences which bring in tons of referrals.
You'll hear how she adapts her social media tactics to get the most value out of the 120-day tax season and why she strives to pull in questions and how she answers them in a challenging real-time environment.
Be sure to check out the takeaways below after you watch the video.