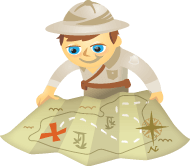 Do you want to quickly find and meet contacts related to your industry?
Are you looking for ways to establish a long-term relationship with those connections?
It can be tough to make first contact without coming on too strong.
But if you engage with someone before you pitch and let them get to know you a little bit, you have a better chance of creating a solid relationship.
In this article I'll show you four ways you can use social media to meet market influencers and expand your network.
Why Social Networking?
Even if you live in the middle of nowhere (like me) you can build a network of influential colleagues. How great is it that we live in a time where you can meet anyone from anywhere without leaving the comfort of your office?
The usual networking methods still apply, of course: attending conferences, joining or starting mastermind groups and meeting friends of friends.
But social media opens a larger sphere of opportunity.
Below I show you how Facebook, Twitter and LinkedIn—and a combination thereof—ensure your first interaction with a potential connection is a lasting one.
#1: Leverage Your Facebook Connections
Given that half a billion people use Facebook, there's a very good chance you'll be able to find networking opportunities there.
To start your search, use Facebook's graph search to find potential friends by using the People I May Know option. This works best if you already have business contacts on Facebook.