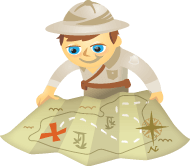 Have you thought about using the power of podcasting to gain customers?
Podcasting is becoming a very popular medium.
It gives you access to an immense audience already downloading podcasts from iTunes.
Not only that, podcasting allows you to form a deeper relationship with prospects because they can hear your voice.
They can hear the person behind the website, company or product.
Below are three ideas to gain new customers, whether you start a new podcast or not!
#1: Choose to Interview Guests Who Are Your Ideal Prospects
Interviewing someone for an hour can start to build a relationship. It also gives you an easy way in the door to a company or person that might be hard to reach otherwise.