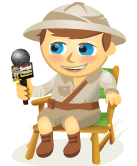 In this video I interview Christopher Penn, director of inbound marketing at What Counts and co-founder of PodCamp.
Christopher explains the power of email marketing and social media marketing and why you need both of these marketing strategies.
You'll discover how to integrate social media and email to leverage your content.
He also shares insights into podcasting, the marketing benefits of his podcast Marketing Over Coffee and social media trends your business must be aware of.
Be sure to check out the takeaways below after you watch the video.