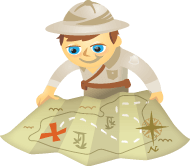 Do you want to use Instagram to add value to your brand?
Are you looking for innovative ways to get your customers (and employees) to post Instagram pictures?
Then keep reading because I'm going to show you four ways to bring your "A game" to Instagram and wow your fans.
Why Customer Instagram Pictures?
Instagram was the fastest-rising social media channel for brands in 2013.
You probably already know it's an effective platform for branding and marketing your products and growing your community.
But what you may not know is that Instagram is a powerful tool to collect customer-created content you can reuse to your advantage.
#1: Enhance Your Online (and Offline) Store With Customer Photos
Visuals greatly impact the behavior of shoppers. Most brands just snap a photo of the product and share it across all social channels, which may work sometimes. But you can take it a step further by crowdsourcing photos on Instagram.
When customers see photos of other "regular" people using a product, they're more likely to buy. Why? This kind of social proof is a powerful motivator. Visitors gain trust by seeing others use the products they are about to buy.
Let's take the clothing industry, for example. The biggest mistake clothing brands make on Instagram is showing bland product photos—clothing worn by hired models, usually with a white background.