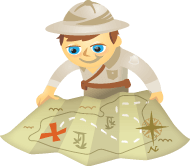 Are you sharing pictures in your Twitter updates?
Do you want to know how to make your pictures stand out on Twitter?
Twitter's in-stream preview images highlight your shared visual content, so make the most of them.
In this article I'll show you four ways to get your Twitter followers to pay attention to your pictures.
#1: Prep Photos for Automatic Resizing
Twitter's in-stream preview lets users share and view photos right in their feeds, without having to click a link. It's handy.
What's not handy, though, is that Twitter automatically chooses a section of your image to display in the in-stream preview, forcing anyone who wants to see the whole thing to actually click on the tweet. That kind of defeats the purpose of in-stream preview.
For example, if I want to tweet this image of me working with my team, I could just upload the image to Twitter, send the update and call it a day. But I have no idea what part of that image is going to make it into the in-stream preview.