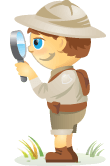 Could "ethical" bribery be setting your business up for failure?
If your company's social media interactions revolve around advance announcements of sales, special offers and insider-only promo codes – to the point where receiving these things is the primary motivation for your fans and followers – then you're essentially bribing customers to stay.
In this case, social media merely provides a pleasant, whitewashed cover for the bribery.
Thus, the very activities you're hoping will improve your relationship with customers might well be actually hurting your reputation with them, making those customers less likely to pay your full price without balking.
This article will reveal four ways to build customer loyalty without bribery.