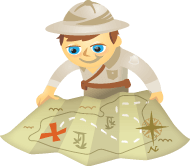 Are you considering infographics for your marketing?
Can you effectively communicate visually?
Infographics are powerful ways to get attention.
In this article, you'll discover how to craft infographics that are widely shared.
Why Infographics?
Modern humans have been around for about 200,000 years and for almost all of that time (97%, to be precise), we've survived by reading just the visual imagery around us.
We didn't start using alphabets until about 5500 years ago.
The fact is, our evolving brains continue to interpret images faster than text. What that means for brands is visual storytelling is essential to delivering highly effective messages.
Because of that, infographics, a hybrid of images and text, have become a great fit for social media marketing. They combine charts, diagrams, pictures and stylized text into a visually pleasing package.