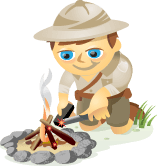 We live in a world where the entire globe can have access to your name, IP address, photo and all of your public information with a simple search.
Now social media takes it one step further. I not only can find your past exploits online, but I can hear the conversations that the entire globe is having about you, right now, with a simple click (and maybe some typing too).
Twazzup, Addict-o-matic and SocialMention are three free platforms that allow you to measure your social media mettle—or more simply put, see all of the buzz or conversations surrounding your brand online, at any time.  Never heard of these platforms?  No worries, I've got your back!