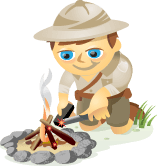 Are you looking to simplify management of your social activities? If so, then Ifttt is for you.
Don't be put off by Ifttt's crazy name. This is one handy tool that you should definitely know about.
Ifttt stands for "If this, then that," which is a very basic way of explaining the site's whole premise.
With very little effort on your part, Ifttt will connect your online accounts and services to create triggered events. After setting a trigger from one service, you can create a task to be activated automatically when the trigger goes off.