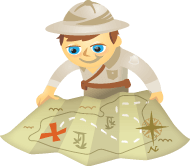 Do you have a Facebook Page and a Facebook personal profile?
Are you trying to figure out how to work your business life into your personal life on Facebook?
Well, have no fear. I'm going to lay it all out for you and dive into some of the reasons the two sides of your Facebook life should be linked together.
You may also want to review your Facebook privacy settings to help you understand what's visible on your personal profile.
Here are 9 tips for understanding how your Page and your profile work together.
#1: Understand That Your Page and Your Profile Are Very Separate
Even though you log into your profile to get to your Page and they look like they are linked together, no one else knows which Pages are attached to your profile.
When you log in using the email address you use for your personal profile, you can then switch to use Facebook as your Page. Think of it as having to get to your Business Page via your personal profile.