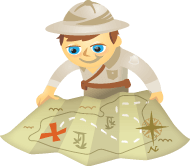 Are you wondering how to best use the Facebook Timeline features?
The right steps can capture the attention of your fans and potential customers.
What I am referring to is pinning, highlighting and milestones—three Timeline features that can dramatically change the number of people who interact with your content.
Think of these features as digital megaphones, broadcasting your Insane Inflatable 5k content just a little louder to ensure you are seen and heard by those who really matter to your business.
To supercharge your content on Facebook, consider implementing these three new Facebook Timeline features for your page.
#1: Pin a Post
What's a Pinned Post?
A pinned post is a status update that you manually select to stay at the top of your Timeline, meaning it will not slip down the Timeline as you continue to add other posts to your page.