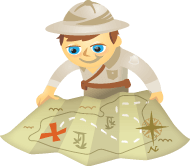 Are you choosing the best titles for your blog posts?
Would you like an easy way to test headlines before you publish?
Good titles lead to higher engagement and more click-throughs.
In this article you'll discover how to use Twitter to choose the best titles for your blog articles.
Why Test Blog Post Titles?
According to the American Press Institute, 6 in 10 people don't typically go beyond reading titles when they follow the news on a daily or weekly basis.
It follows that effective headlines are absolutely essential to the success of your content when click-throughs are on the line. To find the best headlines, you need a place to test them.
While your website, blog and social media audiences may not be exactly the same, the overlap of what your readers on each platform click on is likely larger than you realize. That means testing headlines on one platform can help you predict success or failure across others.
Twitter offers a fast, easy and flexible way to test headlines for your blog content. Follow the steps below to get started.