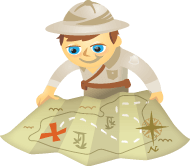 Twitter is starting to look a bit like Facebook.
Twitter changed their account profiles so you can visually tell the story of your business.
With a little thought and planning, you can now create a Twitter page that performs like a business welcome page for existing and potential customers.
And you can instantly publish your story to desktop and mobile Twitter users.
What's New With Twitter
Twitter recently announced changes to Twitter account profiles and headers. These changes include:
New profile header images. Now, your Twitter account starts with a main image, much like the Facebook timeline format's cover image, but with some important differences.
Updated photo streams. It's easier than ever to highlight images you have posted with your tweets and share them with your followers.
New mobile apps for Android, iPhone and iPad. These Twitter changes are not just on the desktop. They rolled out to most mobile devices at the same time.