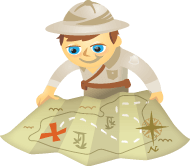 Are you thinking of starting a podcast?
Have you considered using Google Hangouts On Air?
Your podcasts don't have to stop with basic audio files. Google Hangouts On Air offer ways to create audio, video and better SEO.
In this article you'll discover how to create more dynamic podcasts using the built-in features of Google Hangouts On Air.
Why Podcasts With Google Hangouts On Air?
Traditionally, interview-based podcasts are done via Skype using either eCamm's Skype Call Recorder on a Mac or Pamela for Skype on a PC. Both are stable programs with good sound quality and the option to record video. These tools work just fine, but what if you could up your game?