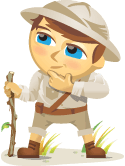 What's smarter? Putting all your eggs into your own blog basket or placing a few real fine blog posts on another person's blog?  If you've pondered these thoughts, keep reading…
Guest blogging has been around for a long time, but it's an especially hot topic now. With the concept becoming even hotter daily, it's quite natural that myths emerge.
This post looks at three myths around guest blogging that have been actively discussed recently.
Myth #1: Guest Blogging Is a Waste of Time
"Why would I spend so much time arranging, discussing and writing a post to get just one or two links from the very bottom of my article?"