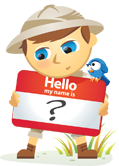 When you're a new parent, you have a name all picked out for your little bundle of joy, right?
But we never got around to giving our mascot a name. And his first birthday is just around the corner! And that's where you come in…
Would you help us name our mascot? We affectionately call him "the little dude" around the Social Media Examiner offices. We want to make this fun, so we've got some great prizes we'll give away to the readers who come up with the best names. See below for details.
The Dude's Wild Ride
It's hard to believe that Social Media Examiner is not yet even a year old! With the help of outstanding writers and a brilliant reader base (yep, that's you!), we've achieved a lot.