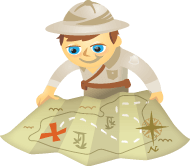 Are you interested in adding a bit of splash to your social media marketing mix?
Google+ Hangouts has addressed this issue.
It might be the versatile platform you've been waiting for to help capture the attention of an even bigger slice of potential customers.
With Hangouts, you can:
Video chat instantly with up to nine people.
Share documents and other files with the group.
Watch a YouTube video together and chat alongside it.
Share your screen with others.
Record sessions for viewing later.
Broadcast the chat live to anyone.
How to Get Started
Starting a Hangout is easy (and free!). Just create a Google+ account, and click the "Start a Hangout" button. The technical aspects of Google+ Hangouts are extremely basic and intuitive.