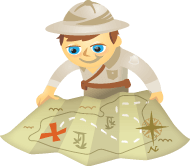 Are you looking for new ways to help your business stand out with social media?
Are you wondering why Pinterest is so popular?
The answer is pictures!
Photos are the perfect social media marketing tool for small- and medium-sized businesses.
Why Use Photos?
Photos are eye-candy that attract and engage readers with your offering. As the Jack (or Jill) of all trades, small business owners tend to have limited budgets—and more importantly, time—to promote their business. Therefore, each marketing element must effectively drive results.
With Pinterest's recent growth and Facebook's purchase of Instagram, now's the time to expand your social media content with photos.
To put this in perspective, Pinterest has experienced exponential growth as tracked by Nielsen, passing Tumblr and Flickr.
Concurrently, Instagram's growth trend monitored by Experian Hitwise has also taken off. Furthermore, don't overlook older photo social media options like Facebook, Twitter and blogs.