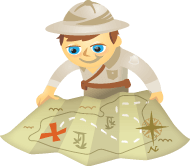 Are you getting the most from your Google+ presence?
Are you looking for ways to improve your Google+ engagement?
Well look no further.
In this article I'll share five ways you can improve your Google+ experience.
Why Google+?
Because Google+ isn't just a social network–it's part of a powerful social platform that integrates with key capabilities like Google Docs, chat, hangouts, email and more.
For that reason alone, Google+ is a high-value opportunity worth investing time and resources to cultivate.
A common misconception is that Google+ is a ghost town. In reality, Google+ is home to vibrant, active communities that foster deep engagement. The trick is learning how to find and take advantage of these communities to build long-lasting relationships with your core audiences.
Here are five effective strategies that will take your engagement on Google+ to a whole new level.
#1: Make Your Google+ Page Findable
First, to make sure your Google+ page is easily findable, add a Google+ Badge to your website. You can add a badge for both personal Google+ accounts and business accounts.
Badges make it easy for visitors to find and engage with you in one simple click of a mouse.