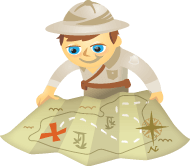 You have a website and you are building traffic to it, but what do you know about your visitors?
Do you know where they come from, how engaged they are with your website or if they have converted as a reader, subscriber or customer?
You can see all of these insights for free using Google Analytics.
Why Google Analytics?
Google Analytics allows you to see where your visitors come from and if they engage with your content or leave immediately. Additionally, you can set up goals that match your business goals and measure if visitors are meeting those goals.
With Google Analytics, you can get valuable insights about your visitors and in this article I am going to show you how to track social media traffic.