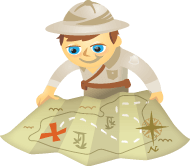 Do you create written content?
Have you struggled getting that blog idea written?
While most of us aren't immune to writer's block, there are ways to work through the block until the words flow again.
In this article, we'll discuss 26 Tips, an A-Z guide for bloggers to overcome writer's block and generate new ideas.
#1: Add Alerts to Find Fresh Content
Google indexes thousands of articles every day and it's a safe bet that at least one of them has information relevant to your business.
Sign up for Google Alerts and you can add and delete alert topics at any time based on projects you're working on.
Include keywords relevant to your blogging goals in your alerts and the updates you receive will point you to content you might not otherwise come across on your own.