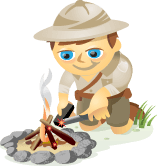 Do you want to make more efficient use of your time on social media?
Are you looking for tools that will help you manage your social media efforts?
In this article you'll discover 3 tools to enable you to become more efficient and effective with social media.
#1: Glyder – Social Media Marketing from Your iPhone
Glyder is an iPhone app that allows you to share well-designed marketing messages as social media updates using predefined templates.
You no longer need a designer to produce imagery to promote your latest contest, offer or status update. With Glyder, you can choose from a wide range of graphic templates that use tried and tested formats and wording to help get the best conversion for your marketing messages.
Glyder helps you improve the quality of the content you share and be more efficient with your mobile device for social media marketing.
Features
Select one of the templates and personalize it by adding your own text, company name/website address and even change the image.