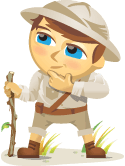 Since location-based check-in app Foursquare was launched at South by Southwest in 2009, the app has seen exponential growth, reaching over 7.5 million users this year.
Other apps have been popping up as well, as geolocation takes center stage in the mobile arena and users flock to apps that create games from typical situations and offer rewards for users.
Two years later, check-ins are old news and the still-young area of geolocation is evolving to keep users interested. Apart from gamification through leaderboards and badges (or stickers, or pins), the motivation for users to participate in location-based networks is severely lacking.