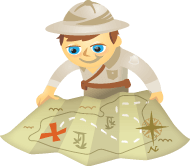 Want to increase your Facebook fan engagement?
Have you considered adding games to your Facebook page?
Facebook games engage people's competitive nature and can grow your brand's reach.
This article shows you how to use games in your Facebook marketing.
#1: Fan Photo of the Week
If you want to get people interested in your fan page, make your fans a part of your social marketing strategy. People love to see their names in lights, so give them that chance with a Facebook photo of the week contest.
The great thing about this type of contest is that it's easy to implement. Just ask your fans to submit a picture based on a theme you choose, then judge the photos and select a winner. When you've chosen a winner, showcase the fan and his or her picture on your cover image or highlight the photo in a status update.
The winner gets bragging rights and will probably want to share the excitement with friends. When the winner shares with his or her friends, your page goes out into their news feed and introduces you to a new audience. That can lead to a jump in viral reach.
Walmart is particularly good at this. They ask fans to submit a photo via a tab on their Facebook page, which means fans have to go to the Walmart Facebook page and engage by clicking through to the app.