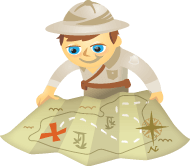 Do you use images to boost engagement?
Are you looking for tools to create better visual content?
Creating compelling visuals for your social media marketing can be challenging.
In this article you'll find just about every resource you need to create visual stories on all of the major social platforms.
The Big Picture
Visual content has become extremely important to marketers' social tactics. That's because of a growing consumer interest in images as evidenced by popular sites like Pinterest, Instagram and Snapchat.
People connect more emotionally with images than they do with text. In fact, customers are more likely to take action or make a decision when prompted with an image.
That means brands using visual social media content to drive a stronger message to their audience will naturally cut through the noise and rise to the top.
Here's a lot of important stuff you need to know about visual content for social media marketing.
#1: Making the Case for Visual Content in Social Media
The use of visual content in social media has exploded, partly because it's so easy to create and share images and video with a smartphone, and partly because images are more persuasive than text content. Here are some important reasons why you should include visual stories in your social marketing tactics.
Why Use Visual Content in Social Media Marketing?: Over at the Marketing Tech Blog, Douglas Karr breaks it down for us with an infographic (of course) to explain why any social marketing should be dominated by visuals.