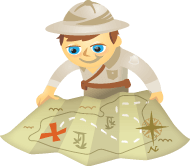 Do you have a strong visual presence on your social channels?
Do you want to build better online brand recognition?
Using consistent visual design elements in your social media marketing efforts helps people recognize your updates.
In this article, you'll discover how using consistent colors, fonts and photo filters sets your brand up for social media success.
Why Visual Branding Is Important
There's a secret that successful companies know about social media: A strong visual brand helps you connect with your community and effectively convey your brand's personality. In short, it makes you memorable. Like Twizzlers.