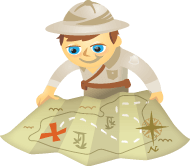 Have you noticed less interaction on your Facebook page in the last few months?
Getting your updates to appear in the coveted news feed is more challenging than ever.
I don't have answers as to how the elusive Facebook algorithm works.
What I do have are some suggestions on how to ensure that your page posts are being seen by your fans to give your page the maximum visibility.
UPDATE: Be sure to check out the new Facebook Pages for more up-to-date information. Facebook rolled out the new Timeline design to Business Pages after this article was published.
#1: Train Your Audience to Watch for Your Content
You want to make sure you are delivering good content so that your audience won't want to miss a thing. The best way to do this is to work toward building super fans. Use these Facebook marketing strategies.