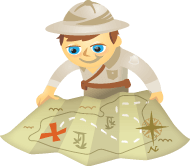 Do you want to know how to help your Facebook Page appear higher in Facebook search and beyond?
With the new Facebook Graph Search, this is a good time to revisit your page.
Here are five steps to make your Facebook Page more searchable and visible.
The first three steps outlined below are for entry-level Facebook Page admins. If you're certain that you're already implementing the most basic best practices, skip ahead to step four.
#1: Choose the Right Name
This sounds really obvious, but many businesses can't help but cram lots of keywords in their name in the hopes of boosting searchability. This can backfire.
If you were, say, "Bubba Gump Shrimp Co.: Baked Shrimp, Shrimp Creole, Shrimp Scampi, Fried Shrimp and More Shrimp," your name would look like spam. Just "Bubba Gump Shrimp Co." says all anyone needs to know.