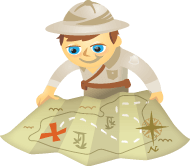 Are you wondering how to best use Facebook for your business?
Should you open your personal profile with a Facebook Subscribe button? Would a Facebook Group work well for your business?
The simple truth is that Facebook Pages are not being seen as often in the news feed.
Facebook reported that on average, brands reach about 16% of their fans in a typical week through posts. This news has many people wondering if Pages are still a worthwhile endeavor.
Find out how to choose the best marketing strategy that fits your business by answering these simple questions.
#1: Have multiple employees?
If so, I still recommend having a Facebook Page despite the visibility issues. Let's face it; every marketing channel has visibility issues. You will never reach 100% of your customers all of the time. Facebook Pages have advantages for your business that Groups and the Subscribe button don't.