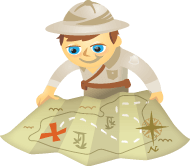 Do you blog? Are you active on social media?
Have you integrated your blogging with your social activities?
Blogging can help you improve your social media marketing.
In this post, you'll discover four tips to enhance your social media efforts using your business blog.
#1: Share Your Blog Posts in Your Social Status Updates
Not sure what to post on your Facebook wall or Twitter profile? How about links to your blog posts?
The rule of thumb is to have a 80/20 split with 80% of your updates not self-promotional and 20% self-promotional. If you use the 20% self-promotional updates to share links to your blog content, you'll give your followers something more valuable to read than a product or service sales page.