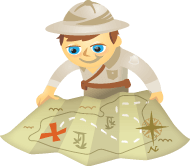 Are you wondering how businesses are creatively using Facebook's Timeline features?
Business timelines are blooming all over Facebook.
You may have read our recent post about all of the changes.
Take a look at these examples of how businesses are creatively using Timeline.
#1: Adding Interesting Milestones
Interesting Milestones may work better if your company has some history. Coca-Cola, founded in 1886, has the benefit of a long and interesting history, so they can show their products from 1916 and how they have since evolved.
But you still may be able to get creative with product releases and things that you have accomplished.