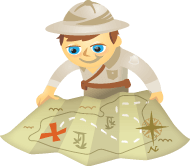 Do you need to increase the visibility of your Facebook page posts?
Are you looking for fresh ideas to quickly create engagement on your Facebook page?
In this article, you'll discover four ways you can create better engagement on your Facebook page using social game.
Why Games?
If you're tearing your hair out worrying about the number of fans interacting with your Facebook business page, moderating your page may not be much fun. Worse still, you may be missing out on getting to know your fans on a deeper level.
The good news is that initiating simple social games on your page's timeline gives your page interaction a boost.
Social games on your timeline encourage comments, shares and likes, and build a sense of community around your brand. Plus, as a side benefit, they are also a lot of fun for you and your fans.
Why Engagement Matters on Facebook
There are more than 15 million business pages on Facebook. Add in Facebook's hundreds of complex algorithms that work behind the scenes to help people see what matters most to them, and it's little wonder that page owners find it frustrating to maintain news feed visibility. Because of the algorithms, fans don't see all updates from every page they like in their news feed.
But every time a fan likes or interacts with a particular type of post on your page, Facebook uses that information to determine what content your fan likes most, and makes that content more prominent in their news feed.
So if your fans are mainly interacting with your images, they'll see more of your images; if they're mainly interacting with your text posts, they'll see more of your text posts. Get the picture?