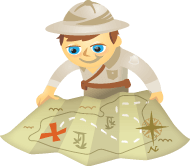 Do you want to make Facebook a profitable marketing medium for your business?
Is Facebook bringing you the leads you're looking for?
A few simple tweaks to your Facebook marketing can bring in more business.
In this article you'll discover four ways companies are using Facebook to increase leads.
#1: Optimize the Cover Photo
There is an entire branch of analytics known as eye tracking and it's dedicated to tracking and reporting what people look at on a web page. Most people spend the majority of their time on the top 1/3 of the page (many times without even realizing it).
The red indicates the section of the web page with the most views and reaffirms that content above the fold is the most viewed.
Not surprisingly, eye-tracking studies on Facebook pages have similar results.