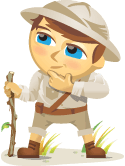 Have you built a loyal following on Twitter but question the value of Facebook for business?  Have you tried and abandoned your Facebook account?
If so, I can relate.  I was there.  My first attempt at using Facebook for business was a big flop.  For the longest time I focused most of my social media marketing efforts on Twitter.
But now my tune has changed. Facebook offers far more opportunities for businesses.  I predict that in the near future, businesses of all stripes will soon declare Facebook as their number-one social media target.
In this article I'll demonstrate why your business needs to invest heavily in Facebook.