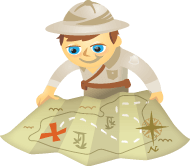 Are you looking for creative ways to bring people to your Facebook page?
Does your business use Facebook to connect with people?
Used the right way, Facebook apps can help you boost engagement and visibility by repeatedly drawing fans to your page.
In this article you'll learn how 6 types of Facebook apps keep your fans coming back to your Facebook page again and again.
#1: "Contact Us" Apps
The easier you make it for people to get in touch with you, the better. Use a contact app to let your fans/customers send email requests to specific departments within your company for more information.
For example, you can use an app to streamline the contact process and send fans straight to whoever handles sales, customer support or press inquiries, without them ever leaving your Facebook page.