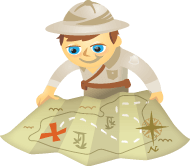 Are you frustrated with Facebook's frequent changes to the news feed algorithm?
Do you feel like you're being forced to buy ads to reach your audience?
While Facebook change is the rule rather than the exception, this article gives you 18 ways you can improve your Facebook news feed performance—and gain the upper hand.
How Reach Is Created on Facebook
Facebook defines reach as the number of unique Facebook users who see your updates.
To see your page's reach, go to Facebook Insights and look at your page's Reach report. You'll be able to see how your reach is improving over time (as shown below).