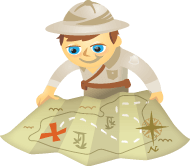 Whether you're a personal blogger, business blogger, article marketer, copywriter, novelist, poet, student writing an essay or any other form of writer, social networks provide a vast array of ways to get inspired to write.
This can be considered one of the best ways to beat a case of old-fashioned writer's block.  You just need to know where to look and set up some channels to provide at-your-fingertips-access when you need it.
Here are nine ways to use social media to find writing inspiration.