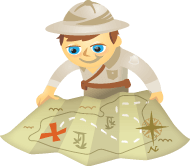 Are you tired of your Facebook posts getting buried in the news feed?
Want to get your Facebook posts seen?
Facebook algorithms dictate how many people see your updates. Two recent changes should help you get more organic reach and lower your frustration level.
In this article, I'll share how you can adjust your Facebook tactics to make the most of news feed visibility today.
#1: Links in Posts
There are three ways to show a link you're sharing on Facebook. Before I explain which format the Facebook algorithm likes best, let me take you through them.
1. Text and Automatic Preview Link
Copy and paste a link into a Facebook status update, and Facebook automatically generates a link preview. That preview includes a headline and a little blurb pulled from the destination URL, as well as an image pulled up from the link's destination or one you upload. You can keep the link in your update text or delete it.