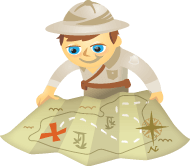 Do you target other businesses?
Are you struggling to generate more Facebook engagement?
Facebook marketing can work well for B2B companies, but you may have to rethink how you use your Facebook page.
In this article you'll discover four tips that can help you make Facebook work for your B2B company or client.
#1: Understand Your Audience
It's important to recognize that your audience on Facebook may not be the same as your audience on LinkedIn.
Knowing your audience—what resonates with them and what their expectations are—is always your first step to success. When you know what your audience wants, you can give it to them (without guessing).
So how do you find out who your Facebook audience is? Use the tools available to you and look at the data. Check Facebook Insights, Google Analytics and even your own database to get a clear picture of your audience.
Facebook Insights tracks how your audience engages with your page. You can trace their preferences, see how your audience demographic compares to Facebook as a whole or track which user segments you're reaching and engaging with most often.