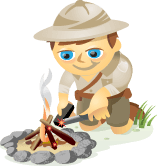 Do you advertise on Facebook?
Have you noticed recent changes to Facebook Ads Manager?
While Facebook regularly updates the Ads Manager, most of the recent changes affect navigation rather than function.
In this article you'll discover the latest changes to Facebook Ads Manager and how to navigate them.
Understand Facebook Ad Campaign Structure
Let's start with a quick review of Facebook ads. There are three levels: Campaigns, Ad Sets and Ads. Each one has different functionality.