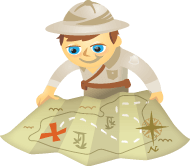 Google+ Events is yet another way Google+ is competing with Facebook, representing a new opportunity for marketers.
Most marketers and businesses have been using Facebook Events to promote everything from webinars to company fundraising events within their Facebook community.
Now, Google+ has a competing service with new bells and whistles.
Google's Benefits for Better Business Events
Your ever-expanding Google+ community will benefit from these cool new features that make scheduling, sharing and finding your company's events easier than ever before.
Full integration with Google Calendar—users can view and respond to your events on Google Calendar.
Real-time Event Photo Stream—all attendees can contribute directly to one shared photo collection.
Mobile Integration—Party Mode allows guests to snap and share photos in real time from their phones.
Easy Email Reminders—automated reminders are sent out to your confirmed guest list, along with an update that the event is starting.
Events On Air—allows your event to go public. Anyone can find the event page of a public event, view and upload photos, share the event with friends and make comments.
Hangout Integration—easily schedule and host virtual meetings and events that can be accessed via a laptop or smartphone by up to 10 guests.
Event Analytics—gain insight into offsite activities that involve your Google+ Event via Google's Social Reporting Tool.