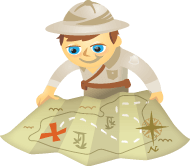 Does Google know you're the author of the content you publish online?
If you answered "I don't know," chances are you haven't heard of a very powerful piece of HTML markup code known as rel="author".
When implemented correctly on websites or blogs with authored content, this small addition to your articles can have a dramatic impact on how your content appears in Google's search results.
This article will explain exactly what rel="author" is, why you need to pay attention to it and most importantly, how to set it up on your website or blog.
What is rel="author"?
Most of us are familiar with the HTML anchor tag as a way to link out to content as seen in this image:
In that traditional format, the "href" part of the markup is called an attribute of the anchor tag that references the location of the content being linked to.