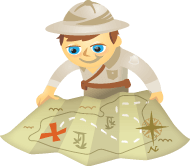 Do you struggle coming up with content ideas for your blog?
Or maybe you create plenty of blog posts, but they get few views and even less engagement?
If you find that creating engaging content is challenging, keep reading.
This article will identify some of the best tips, tools and tactics for creating blog content that helps grow your business.
#1: Be the resource your customers really need
What's your ideal customer's biggest problem? Your blog is not about your business, it's about your customers.
If you want to attract and engage your prospects and lead them down the sales funnel, you need to focus on them and their problems.
The more you create content that helps your prospects succeed, the more engaged they'll become with your blog.
So how do you know what your audience is struggling with?
Ask.
If you've been in business for a while, chances are you already know a lot of what your customers are struggling with.