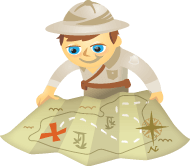 Are you using Google Hangouts on Air?
Do you want your Twitter and Facebook followers to join in?
By sharing the YouTube link of your Google Hangout to Twitter and Facebook, you can stream the live event to reach more viewers.
In this article you'll discover how to stream your next Google Hangout On Air to your Facebook and Twitter followers.
Why Google Hangouts On Air?
Google Hangouts On Air are live video broadcasts that stream simultaneously on Google+ and YouTube. Through the magic of Google, YouTube automatically records your live video and saves it to your YouTube channel after the event.