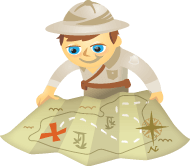 Do you want more email subscribers?
Are you looking for ways to move social media fans and followers to your email list?
In this article, I'll show you 5 ways to use social media to build your email list.
Why Email?
At least 91% of consumers check their email every day.
One of the most heavily used communication channels to date, email marketing is considered the third overall most effective channel for lead generation for marketers in 2013, producing 13% of all leads.
To grow your email list, there are ways you can make use of the engagement you have with your social media audience to turn your followers into subscribers who'll become long-term customers.
Here are five tips:
#1: Use a Simple Sign-Up Form
Businesses of all sizes should set up a simple email sign-up form on their social channels to make it easy for your most invested fans to easily subscribe to your list.
On Facebook, dedicate a tab at the top right-hand side of your page for an email form. Then, people simply have to click on the icon to visit the sign-up form.
Make sure to use an image and call to action in this tab to incite people to click and subscribe.