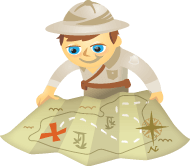 Is Pinterest part of your marketing strategy?
Have you ignored Pinterest because you think your brand isn't a fit?
Every brand has a story to tell and visual content can help you tell it.
Sharing your story with Pinterest's engaged and active audience via compelling pictures is a great place to start.
In this article you'll see how six brands got creative with Pinterest and captured new followers and interest.
Why Pinterest?
Visual marketing is the current trend, so it's no wonder brands see huge potential in Pinterest. It's an ultra-hot social media site where photos are center stage and sharing is second nature to the audience.