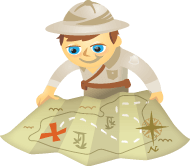 Have you tried using a blog editorial calendar?
Do you have a central place to track blog topic ideas, manage writers and schedule publish dates?
Blogging is much easier when you have your content planned out. Knowing what you'll write about and when you'll publish it helps you stay on track.
In this article I'll share three editorial calendar tools that help you deliver better content in less time.
What Is a Blog Editorial Calendar?
A blog editorial calendar shows you all of your blog posts and where they are in the production process. It sounds simple enough–perhaps so simple you may think you don't need one. But an editorial calendar has a large impact on your overall organization and productivity.