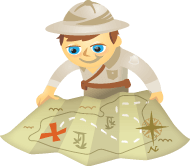 Do you have customers?
Are they on Twitter?
Are you using this amazing tool to support your customers?
Keep reading to discover four ways to provide amazing customer service with Twitter.
Why Twitter for customer support?
 "I genuinely believe that any business can create a competitive advantage through giving outstanding customer care." ~ Gary Vaynerchuk (@garyvee)
This is one of the best quotes I have heard. It must give any business a lot of comfort. Even if you have a million complaints, you can still lead with better customer service.
When my business recently had to weather a severe storm, we decided to default everything to simply being there for our users and customers. It was an incredible experience.
And what better way is there to give your best customer service than through Twitter?
Twitter has changed continually over the past few months, as the service becomes more and more mainstream.
The results we've seen from using Twitter as our most important support channel day in and day out are incredible.