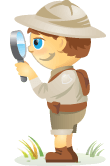 Are you wondering how to influence potential customers and prospects?
The latest findings from Technorati's 2013 Digital Influence Report show that "consumers are turning to blogs when looking to make a purchase."
In fact, blogs rank favorably with consumers for trust, popularity and even influence.
Here are some interesting findings from the Technorati report.
#1: Blogs Influence Consumers' Purchasing Decisions
The report found that blogs are now the third most influential digital resource (31%) when making overall purchases, behind retail sites (56%) and brand sites (34%).
Consumers said that blogs rank higher than Twitter for shaping their opinions and higher than Facebook for motivating purchasing decisions.